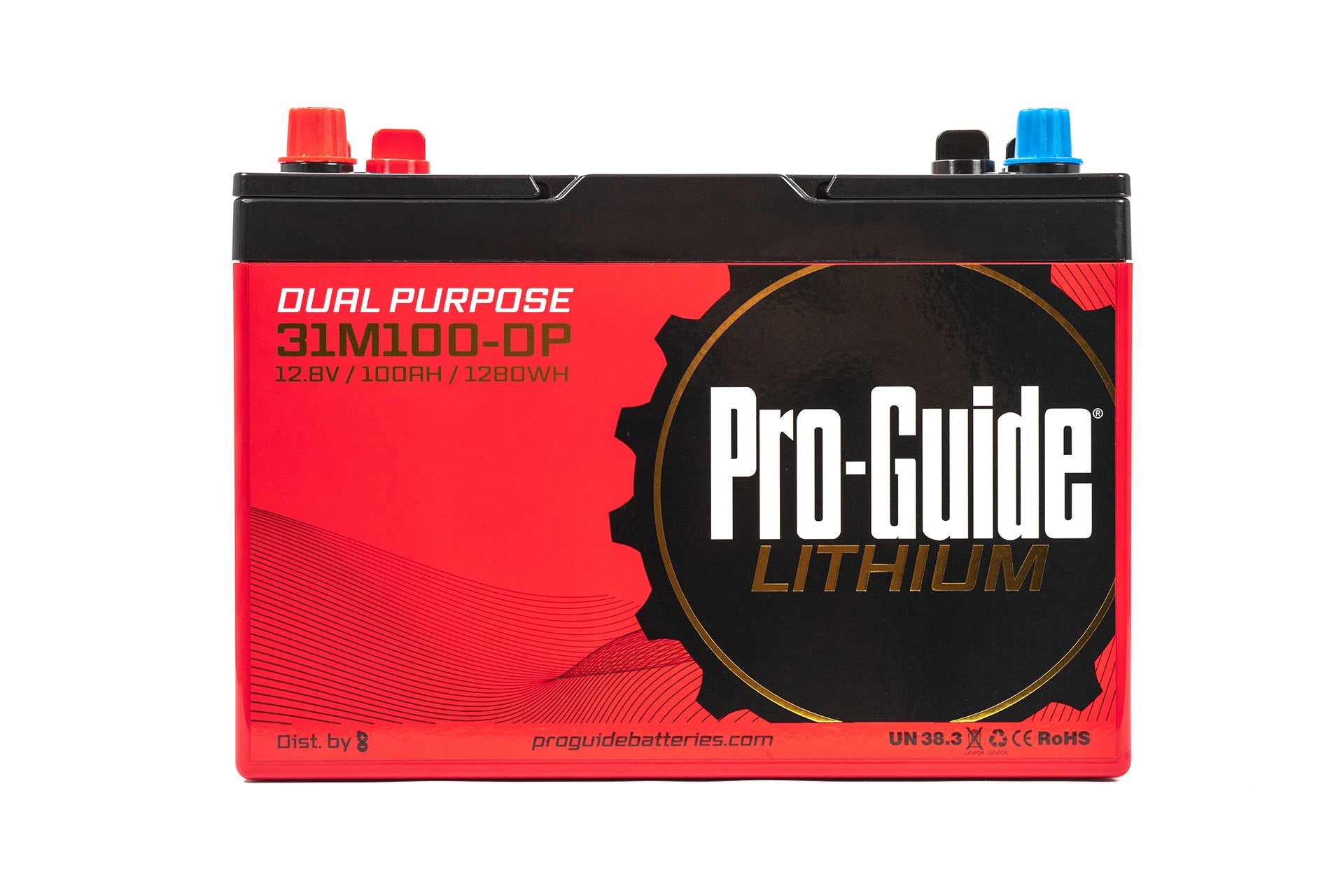 Pro-Guide Lithium // 31M100-DP STARTING BATTERY
---
Pro-Guide Lithium // 31M100-DP STARTING BATTERY
You asked for it, and we've delivered, Pro-Guide is excited to annouce our first Lithium Powered Starting battery. Housed in the Same Group 31 case as our flagship 31M100 product. The 31M100-DP will give you the power, features, and terminal configuration your build needs to stay powered all day every day!
With A Cycle Life Rated Up To 2500 Cycles @ 80% DOD, The Pro-Guide Lithium 31M100-DP Battery Is Your New Favorite Choice For Powering Your Boating & RV Adventures, Solar Storage, And More
When you need power that'll last, the Pro-Guide Lithium 31M100-DP Battery is there to support you. Get the most out of your onboard electronics, and fire you boat motor faster than ever!
With cycle lives rated beyond 2500 cycles @ 80% DOD and a capacity of 100Ah or 1280Wh, you get a battery that performs at a high level over its whole lifespan
With the first of its kind Brass Tri(Triple)-Terminals that are corrosion-resistant makes for an ideal connection that withstands high temperatures, weather, and other environmental stressors
An enclosed cell reduces the impacts of vibrations and improves the life span of the battery, sheltering it from the wear and tear that can cause other batteries to break down faster
Easy-to-read State of Charge (SOC) indicator built right into the top of the case ensures you'll always know where your battery stands
At Just 26 Pounds, The Pro-Guide Lithium 31M100-DP Battery Is One Of The Lightest And Longest-Lasting Deep Cycle Batteries Available
When you're ready to hit the road in your RV, nothing should slow you down.
When you're ready to take the boat out, nothing should get in the way of a smooth ride.
And when you want a battery that will support you on all your adventures, big and small, nothing performs quite as well as the Pro-Guide Lithium 31M100-DP Battery.
This deep cycle battery features an ideal mix of performance (certified up to 2500 cycles) and capacity (100.0Ah) to go along with a lightweight (just 25.79 pounds!), stable design.
And even if you're discharging it 80% every single time, you can still get 2500 cycles out of your Pro-Guide Lithium 31M100-DP Battery. That's like 7 years of non-stop use. Crank the tunes, roll down the window, and enjoy the open road, because there's no stopping you!
For a safer, stable battery that will let you enjoy the most out of your activities, trust in the Pro-Guide Lithium 31M100-DP Battery. Order yours today.
*Call for more info on shipping*
870-773-3474